Services and Amenities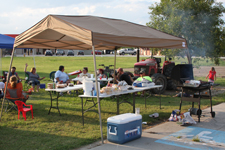 Cane Row RV Park offers a number of services for our guests to make the most out of their stay with us, making them as comfortable as possible.
RV Sites
Current Rates: $450 a month or $150 a week
Amenities
• Secluded back lots for night shift workers—get the sleep you need during the day in our secluded back lots where you won't be disturbed by the noise of vehicles coming and going or daily activities.
• 30 & 50 AMP hookups
• Seven Acre Stocked Lake — Fishing
• Picnic Shelters
• Gas Pumps (Diesel and Propane)
• Laundromat
• Convenience Store
• Café—enjoy a cup of coffee, or generous portions of any meal, prepared by our staff when you don't have time to cook.
• Casino
• Wi-Fi
• Spring Festival
Places Nearby
Cane Row RV Park is within 1.3 miles of Walmart, Wendy's (1.4 miles), CF Industries (1 mile), McDonalds (1.6 miles), Sunway (1.4 miles), Walgreens (1.4 miles. We are also close to Payless Grocery, ACE Hardware, Pizza Hut, and Little Caesars.