About Cane Row RV Park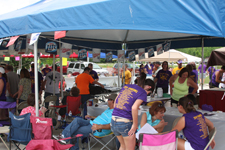 Cane Row RV Park has been hosting travelers, business associates, and those taking a weekend getaway for almost 11 years. Providing an alternative to a hotel, our spacious campgrounds have the amenities you need and the scenery you're looking for to create a comfortable, relaxing place to stay in Donaldsonville.
Donaldsonville, located in southeastern Louisiana, was founded back in 1829 and has since grown. The area is surrounded by a number of industrial and chemical facilities, along with a food manufacturing plant and miles of sugarcane fields. A quarter of a million tourists visit the area annually, and we look forward to accommodating some of these visitors in our RV Park.
If you're looking for things to do on your trip, visit the Historic District, take a tour of the River Road African American Museum, visit Historic Fort Butler Commemorative Site, or see a war memorial at Louisiana Square Park, plus several other attractions in nearby cities.
Step away from the crowds and traffic by staying in a cozy camper overlooking the lake. Enjoy fishing, cookouts, and beautiful sunrises and sunsets. Contact us or stop in to make your reservation today.